SMG IS YOUR RESOURCE FOR
EHS SERVICE SOLUTIONS.
Reduce safety incidents. Support sustainable operations.
Elevate your EHS program.
SMG IS YOUR RESOURCE FOR
EHS SERVICE SOLUTIONS.
Reduce safety incidents. Support sustainable operations.
Elevate your EHS program.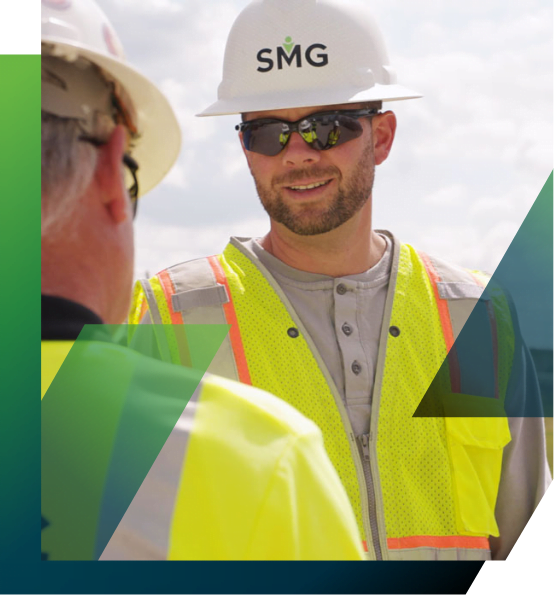 EHS expertise with a personal approach.
Building an environmental, health, safety, and quality culture takes more than expertise–it takes truly understanding and becoming part of your team. Wherever you are in the cycle of creating, executing, or evaluating your EHS programs–Safety Management Group (SMG) can help protect your people, property, and the environment.
Flexible solutions meet you where you are.
SMG offers different ways to engage with our team so that you get what you need when you need it.
OnDemand – OnDemand services give you access to our full scope of expertise and advisors on a part-time basis. Contracts start at just a few hours a month.
ProSolutions – Leverage the SMG team to develop and manage your EHS program with full-time, dedicated safety advisors on site. 
Safety Course Completions
AFTER MORE THAN 30 YEARS IN BUSINESS, SMG HAS DEVELOPED, TESTED, AND PROVEN A FULL SCOPE OF SERVICES.
Full-time program management, part-time support, or assistance with a one-time assessment—our expert team brings the real-world experience and certifications you need. We customize our services to meet your needs.
INSIGHTS & ASSESSMENTS
Gap analysis, appraisals, or systems evaluations are often where we start. Need a roadmap for building your EHS program? Contact us for a program assessment.
PROGRAM MANAGEMENT
Full-time or part-time safety advisors work to create, implement, and manage your program. Learn more about our ProSolutions and OnDemand service options.
VERO SOFTWARE
VERO is a proprietary data management software that allows you to manage contractors, record work hours, and collect documentation.
INDUSTRY-SPECIFIC EXPERTISE
SMG advisors blend technical knowledge with industry experience to deliver solutions with a personal approach. With an average of nine years of experience in the sectors they serve, SMG advisors understand the challenges unique to different industries. Most of our advisors have degrees or industry certifications such as CSP, CHST, and CUSP. We have a track record for successfully serving leading companies in the following industries.
HOW DOES ONE INJURY IMPACT YOUR BOTTOM LINE?
Direct medical costs are only the beginning of the bottom-line impacts of a worker's injury. Find out just how much an injury can cost using SMG's injury cost calculator.
Our work has helped clients realize as much as a 70% reduction of TRIR RATES.
Working with SMG starts with a conversation.
Let's Talk.
Contact us for a Needs Assessment.
We'll work with you to create a custom solution.
Then we'll help
you implement.
FILL OUT THE FORM BELOW TO SCHEDULE A NEEDS ASSESSMENT.