ARE YOU PASSIONATE ABOUT SAFE AND SUSTAINABLE OPERATIONS?
We are continually hiring dynamic and experienced professionals.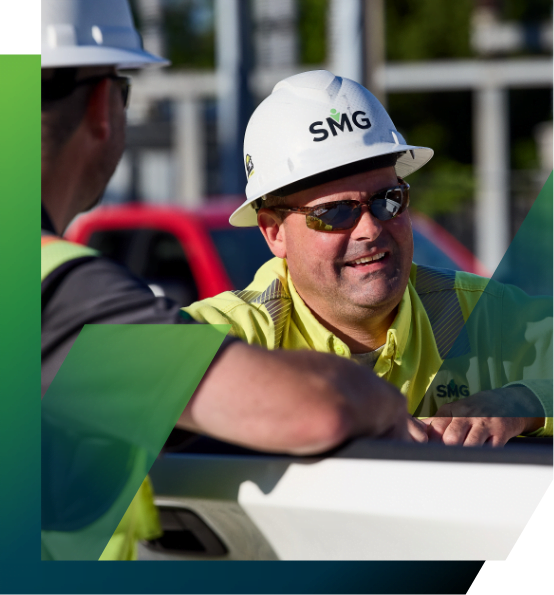 PEOPLE ARE OUR PRODUCT
At SMG, we understand that our people are what set the services we provide apart from other firms in our business. That's why we hire the best and continually develop and grow our team to strive to be the top in our industry.
If you are interested in working for a family-friendly company that is also one of the fastest-growing professional environmental, health, safety, and quality service firms in the US, then we want to hear from you.
We're looking for environmental, health, safety and quality management professionals that bring real world experience to apply at SMG.
Ideal candidates have industry certifications such as CSP, CHST, CUSP and others.
Related degrees are always preferred.
WE INVEST IN THE DEVELOPMENT OF OUR TEAM.
SMG is a company where you can grow both personally and professionally. Our goal is long-term employment which promotes both depth of knowledge and consistency for our clients.
We invest $2000 in annual training for every associate.
Each full time associate at Safety Management Group receives:
Paid time off for vacation, holidays and sick days
$2000 annual training budget
Continuous management support
Tuition reimbursement for advanced degrees in safety and health
Health, dental, vision and life insurance coverage
Short term and long term disability
Annual review and bonus program
401K match program
Wellness reimbursement program
Per diem reimbursement
8335 Keystone Crossing
Suite 103
Indianapolis, IN 46240
Toll Free: (800) 435-8850
Phone: (317) 873-5064
Fax: (317) 873-5096
Fill out the form for a quick and specific response to your request.
Your information will remain strictly confidential and will not be shared with any third party.